Title: Parting Gift

redismycolour Challenge: Day Thirty-One
Date Written: 2/01/09
Rating: PG/K+
Word Count: 1,000
Fandom: Torchwood/Doctor Who
Characters/Pairings: Jack/Ianto, Martha
Spoilers: Doctor Who 04, Torchwood 02
Warnings: Character death, angst, tissues definitely needed.
Author Notes: I'M DONE. And you are all going to kill me for doing this, but I DON'T CARE I AM DONE. Edit 4/09 -- This fic was nominated for a Children of Time Award! Thank you so much for nominating me, I hope that you newcomers enjoy my work! EDIT 6/09 -- This fic won runner up for best darkfic for Children of Time Awards Round 3! Thank you so very much for reading, nominating, and voting for me!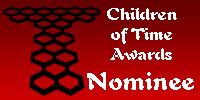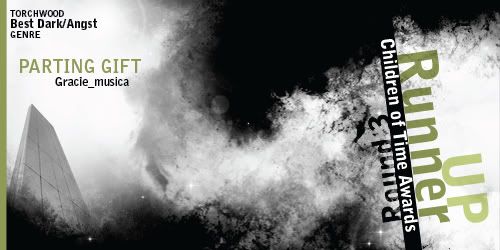 Nominated Runner Up, Torchwood -- Dark/Angst, Children of Time Awards Round 3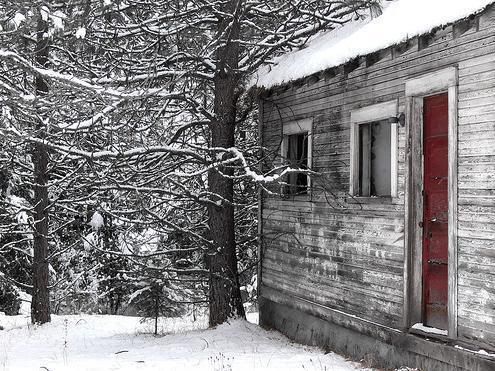 It was fitting that Ianto died in the winter. The weather matched the ice that had settled over Jack's soul.

Oh, he'd known that this end was inevitable. They'd both known far too well what would happen. Ianto would die, either from work or old age or his head would roll off his body from rolling his eyes at Jack's antics too much., but he'd be gone and Jack would be there to carry on. Alone for a while, but he'd grieve and then find someone else.

Ianto had basically told him he'd better. Jack didn't believe in ghosts, knew better than to believe in that. Then again, Ianto always proved to be the exception to every rule.

He'd been so fucking careful, lasted for so long. Unnaturally long in Torchwood. Long past Suzie and Owen and Tosh, past Gwen and the new kids they hired to replace them. He'd even managed to outlive Mickey, the young Londoner giving his life to spare his Welsh coworker during an alien slavery ring bust over the Channel in Paris. Ianto would get bruised and broken, but he'd always end up home, safe in Jack's arms, the Captain putting the pieces of his beautiful, broken lover back together again. A rare constant in a constant's life.

Now there was nothing. A never-ending winter.

He'd gone through this before. It never got easier.

Martha had taken him up to the little cabin Ianto had died in after the funeral. He'd cracked jokes the whole way up about hating camping and the countryside, sounding so perfectly like Owen that it made Jack laugh until he thought he'd be sick or wreck or collapse into tears or all of the above while the newcomers didn't get their in jokes and rolled their eyes.

Then he went and pulled a Gwen, got shot the moment he kicked in the worn red cabin door.

Gwen had gotten back up. Ianto had bled into the snow.

Jack had come completely undone in that moment, letting the rest of the team snapping into place like the well-oiled machine Ianto had trained them to be while he knelt by his lover. He'd held Ianto's hand, begging him quietly not to go. Told him that New Year's was just around the corner, that he'd had a surprise planned for them. Told him that he couldn't go, the Hub would be a mess and Myfanwy would be incorrigible and coffee would never taste the same. Told him the secret he'd been saving to tell him when they'd gotten back, over dinner at their favorite restaurant. The secret he'd been saving because he didn't know what would have happened once it came out.

And in classic Ianto Jones style, he went out scolding Jack, smiling up at him through tears of pain and proving in his own quiet way that his world was only Jack and Torchwood.

"I'll wait here for you," Martha said, looking over at him. Her eyes were red-rimmed, tears tracks leaving streaks through make-up. Her hands were grabbing the steering wheel so tight he was sure that her wedding ring was cutting off circulation to the finger it was on.

"I won't be long," he said. "I know you want to get back to Tom and the baby."

"He can manage his own son for a bit," she said, giving him a watery smile. "Take as long as you want. As long as you need."

Jack climbed out of the car, still clutching the red rose they'd given him at the gravesite. He hadn't had the heart to throw it into the grave – all for show for his family and friends that had known him, his body was in the morgue per his request – and hadn't let go of it since Martha had bundled him into the car.

It was quiet, just the noise of his footsteps crunching through the snow. A benevolent, peaceful quiet. He could almost feel Ianto watching him.

Stupid, since there was nothing, but he could feel it. The pinprick of awareness that made the hairs on the back of his neck stand on end, the one that signaled Ianto's gaze on him.

The blood had cleaned up, leaving just pristine white snow in its place, but Jack knew where he'd died. He knelt in the snow, like he had just a few long, torturous days ago, and set the rose in the snow. He could hear ianto's voice echoing through the clearing, inside his head.

"I should shoot you!"

He laughed. He'd laughed then, too, just like this, a choked noise through tears.

"I deserve it."

"Don't you dare do something so rash when you're grieving and not thinking properly. Don't you dare, Jack Harkness. You will never forgive yourself. We knew this would happen."

"Not like this!"

"Never like this."

"I'm grateful for every second. Truly. You saved me, a million times over."

"No, you can't. I can't do this without you."

"I can't, I – "

"Give it time. Don't decide now. You have Martha and the Doctor. I'm leaving you in good hands."

"No. No, Ianto, don't. Please, don't."

He didn't realize he'd been rocking back and forth, so caught up in the memory, until he overbalanced and fell face first into the snow. The cold shocked him out of his trance and he sat back on his heels, scraping the snow from his face.

As his vision cleared, his eyes landed on a tiny little pine sapling, its young green leaves bright against the snow and bare wooden trunks. A little piece of hope, a sign of spring yet to come.

"This will pass. You'll smile again, laugh. Fall head over heels in love. Don't let this cloud what is to come."

And then he realized he'd made his decision as Ianto lay their dying in the snow. Instinctively, he put a hand over his abdomen.

There was still a piece of Ianto left in this world.

Their child would be brilliant.